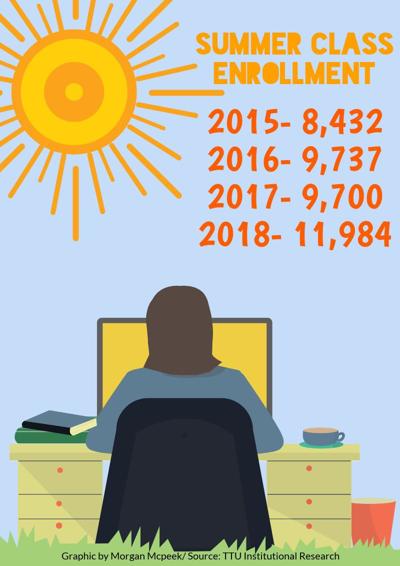 In recent years, the number of students taking both on-campus and online classes has grown. Summer class enrollment online is also growing.
Daniel Epstein, interim director of online and regional site education for the Texas Tech Department of Political Science, said there are about 5,000 to 6,000 students each semester who take online classes, and a couple of thousand students over the summer.
"The summer especially has grown a lot," he said. "Two or three years ago, we have just about 500 (students) over the summer."
Scott Hall, managing director of Tech Information Technology Help Central, said Blackboard hosts online classes during the year and over the summer.
"We have had an online learning management program for many years. Blackboard helps students connect and share information, take assignments and tests, collaborate on different assignments and projects," he said. "We periodically review all our services that we provide, and we went through a review process with students, faculty and staff, and we did an assessment. Blackboard was the product selected during that process."
John Thomas, managing director of Tech Technology Support, said there has been a 90 to 95 percent adoption rate of Blackboard by all classes.
"So many undergraduate, graduate classes use Blackboard to help manage their course as far as assignment submissions," Thomas said. "You can really get into Blackboard from anywhere on any device. One of the other applications that we use is called Blackboard Collaborate. What that allows you to do is have a live online session where the instructor can be speaking and have students call in from really any location."
In 2013, Hall said Blackboard was moved to a cloud.
"Because you are using a network, there are network considerations you have to consider since you have to stay connected. You need a stable network, and it needs to be fast enough to handle the connection," Hall said. "Most networks nowadays are."
For better accessibility, Thomas said the department is adding more to Blackboard.
"Blackboard Ally is to make sure that content that is put on is accessible to students who may need accommodation," Thomas said. "A student can log in and go to where the content for the course is. There's an option to download or view alternative formats for documentation. That's a major step forward for the university that we just implemented this last spring break."
Blackboard Ally can be used no matter if a student needs accommodation or not, Thomas said.
"You personally may prefer to see a document in a different format, and your learning style may prefer to listen to an audio of a document as opposed to reading the document," he said. "These alternate formats are available for everyone. That was a major step forward for us at the university."
In the future, Thomas said Blackboard Community is planned to be implemented.
"That's intended to be able to reach different sectors of the student population or the faculty population," Thomas said. "It's not quite as robust as Facebook, but it allows for a student who may have several different attributes to receive information from the academic side of campus."
Regarding online courses, Epstein said he believes classes, such as American and Texas politics, work better because there is less of an expectation that students will use that information for their next semester classes.
"Whereas, I think taking upper division classes in your major online doesn't always work as well," he said. "I think the actual face-to-face, in-person class is more useful."
The students who get the best grades are the ones who are good planners and who work ahead, Epstein said.
"It doesn't really require such intense engagement with the materials to get good grades in the courses," he said. "What it requires is fulfilling bureaucratic requirements, which in some ways makes it seem like it is less intellectually challenging. But in the world we live in, meeting bureaucratic requirements is often way more important, like for applying for a job or getting a mortgage or doing well in your job than actual intellectual prowess."
For those who learn more in online classes, Epstein said they are the same students who learn the best in face-to-face classes.
"They may do fine in terms of grades, but they may not learn very much," he said regarding students who take certain classes to just get good grades. "I think in face-to-face classes when they have the attitude of, 'I am just here for the credential,' they struggle to master the material and they struggle to get good grades in the class. In the online classes if they do not care, they may not learn much, but they may be able to get a good grade if they keep themselves organized."
Epstein hopes students in online classes will read their instructions carefully and read the emails their professors send them, he said.
"Hopefully students are learning through those experiences of learning how to read the fine print. You should read what the letters say, you should read the email instructions, not just for our courses but for anything in life," Epstein said. "Hopefully they will learn those lessons for the digital bureaucratic world we live in."